New & Recertified Intel Asus, Gigabyte, ASRock & MSI Z270 Z370, Z390, X299, X399 X470, X370, X570 motherboards for sale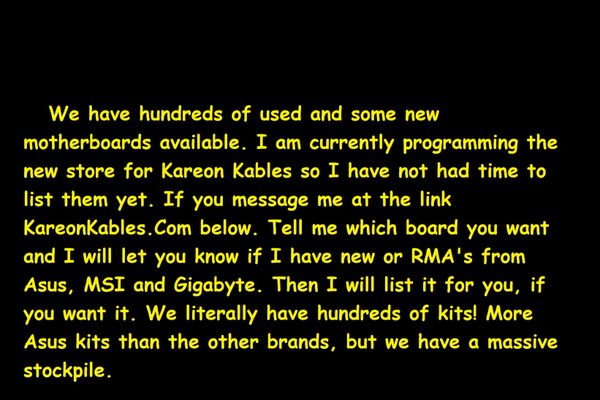 New & Recertified Intel Asus, Gigabyte, ASRock & MSI Z270 Z370, Z390, X299, X399 X470, X370, X570 motherboards for sale
We have hundreds of used and some new motherboards available. I am currently programming the new store for Kareon Kables so I have not had time to list them yet.

If you message me at the link below. Tell me which board you want and I will let you know if I have new or RMA's from Asus, MSI and Gigabyte.

Then I will list it for you, if you want it. We literally have hundreds of kits! More Asus kits than the other brands, but we have a massive stockpile.


If you have any issues, please message for technical assistance at KareonKables@Gmail.Com



Shipping:
Your package will ship the next morning if ordered after 9:00 AM EST USA Mon. Sat.




International Buyers
Import duties are not included in the price. These charges are the buyer's Responsibility