Dell DA-2 Akitio Thunder II or III PCI-E Power Cable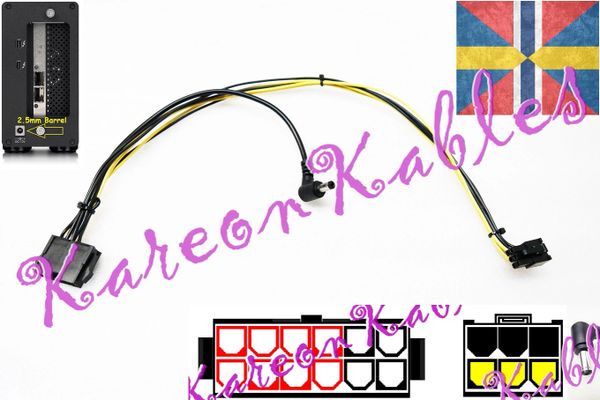 Dell DA-2 Akitio Thunder II or III PCI-E Power Cable
Dell DA-2 to AkiTio E-GPU
PCI-E w/12V AkiTio Jack
Power Solution
If you want to reinstall the cover, use this link for the lowest version, which takes the least case modification possible at this link: https://kareonkables.com/products/a1-ultra-low-akitio-thunder-series-flat-lying-pci-e-gpu-video-card-dell-da-2-power-cable  The connector in the photo is basically a combination of angle option #3 & #4. It is just #3 tucked around and bent toward the rear of the case. It is actually lower than option #4 when wiring for an 8-Pin option, considering the wires do not have to lay on top of other wires.


**IF YOU WANT TO BUY A CUSTOM CABLE READ THIS**
1) Need a unique cable that is not listed? Message us and we will go from there.
2) Leave a message giving the exact Make & Model number of your power supply

3) If you have any issues, please message for technical assistance at:
Shipping:
International Shipping Available

Your package will ship the next morning if ordered after 9:00 AM EST USA Mon.-Sat.




International Buyers
Import duties, taxes and customs fees are not included in the price. These charges are the buyer's Responsibility.